We provide wide range of Services to grow your business online in this Digital world.
All services in one place
We provide all types of Digital marketing services starting from SEO to Paid Media. We help your businesses to grow digitally.
With all the services we provide we ensure to give support and help the businesses we work with. Our team makes sure to fulfill all the needs of the clients and ready to help them in any circumstances.
We offer different types of Digital Marketing & IT Services.
We maintain and develop customize Websites for different business with a team of professional web developers.
Open an online store with us. E-commerce website development with one of the best website design Agency in Mumbai.
Grow your business through different Social Media Platforms.Get Leads through Social media marketing for your business.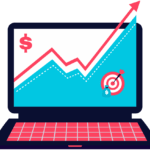 Manage your ROI of google Ads. Get quality business leads from Google through different ads depending on your business.
Get a custom website designed by the professional designers as per your business.
Create social media creative for your business. Increase your Engagement by posting festival and business creatives.Stay active on Social Platforms.
Search engine Optimization
Rank your website on the first page of google. Grow your website traffic and get organic business leads.Increase your website visitors.
Facebook ads is one of the popular advertising medium through which you can boost your business and generate sales for your businesses.
We have a team of Professional Web designer and Digital Marketer. We provide on-going support and maintenance.
This is the list of some of our happy customer for which we have delivered our best services.
Our designs are unique and Responsive.
We provide 360° digital Services for your businesses.
We provide 24/7 Support and help for our clients.